December 2015 Newsletter
Winter Sport Safety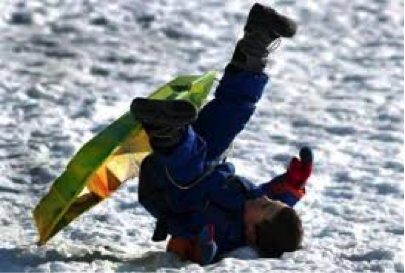 With the weather getting colder and anticipation of snowfall, many of us get excited for the exhilaration of winter sports. Skiing, ice skating, snowboarding and hockey, are all ways to escape the dreaded dulls that often comes along with these long winter months. Winter sports are great fun, but they also can be quite dangerous. Those of us daring enough to participate should be aware of the many ways to prevent winter sports injuries
Cold temperatures and icy conditions can lead to the most common winter injuries including sprains, dislocations, and fractures. According to the US Consumer Product Safety Commission, in 2010, 440,000 people were treated in hospitals and doctors offices for winter sports related injuries. The statistics show that there were 144,000 injuries were from skiing and another 148,000 were from snowboarding alone. The good news is there are many ways to avoid the emergency room this season.
Always warm up before any activity. Cold muscles are more prone to injury, so do some light exercises and stretches to get yourself going
Make sure to wear proper gear to keep yourself protected. Wear goggles, padding, gloves, and helmets when necessary
In the toughest sports like skiing or snowboarding, you can greatly benefit from hiring an instructor. You will learn falling techniques that will protect you from injury
Abide by the rules of the sport – they are put in place to keep you safe!
Avoid participating when you are in pain. You don't want to aggravate an injury by pushing yourself to continue. Also if you begin to experience pain while participating, give yourself a rest. Be sure to get a medical evaluation if pain persists.
While enjoying the exercise and the crisp, fresh air, always keep in mind that almost all winter sports injuries can be prevented. It is important to stay alert, maintaining good physical health, and stopping when you become tired or begin to experience pain.