November 2015 Newsletter
Proper Raking Techniques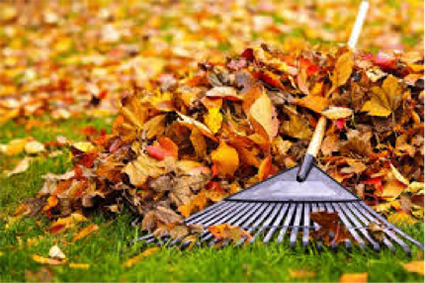 Tips on Raking Leaves Without Breaking Your Back
Warm up – Make sure to stretch and warm up your body before doing any vigorous activity.
Choose the Right Rake – Make sure the rake is proportionate to your body. Take the width of your rake into consideration. A wider rake will collect more leaves but put more strain on your back while a narrow rake will collect less but put less strain on your back.
Pay Attention to Your Posture – When your body is in an awkward position it can put strain on your muscles, make sure while raking to keep your legs slightly bent, to reach with your arms and keep your weight centered.
Switch Hands Often – Repetitive motions can exhaust muscles easily, by switching hands you can help alleviate muscle exhaustion.
Bend with Your Knees – When lifting anything you should always lift with your knees. Keep piles of leaves small not to put too much strain on your body.
Wear Gloves – protect your hands from possible blisters
Drink Water and Take Plenty of Breaks – muscles need water to function properly so make sure to stay hydrated throughout. Be sure to take frequent breaks, if exhaustion occurs it can cause you to get sloppy with technique and posture.
Although raking is necessary, injuries are not. Following these guidelines should keep you injury free into the upcoming holiday season!
A Healthy Fall Recipe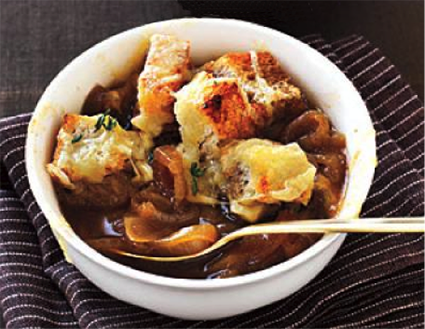 French Onion and Apple Soup Recipe Courtesy of Cooking Light
Ingredients
3 tablespoons unsalted butter
15 cups sliced yellow onion (about 4 pounds)
3/4 teaspoon black pepper
1 Honeycrisp or Pink Lady apple, peeled, quartered and cut into Julienne strips
3 thyme sprigs
2 bay leaves
1/2 cup Madeira wine or dry sherry

6 cups lower-sodium beef broth
1/2 cup apple cider
1 tablespoon sherry vinegar
10 (1/2-ounce) slides sourdough bread, cut into 1-inch cubes
2 cups (8 ounces) grated Gruryère or Swiss cheese
Thyme leaves (optional)
Preparation
Melt butter in a Dutch oven over medium heat. Add onion to pan; cook 5 minutes, stirring frequently. Continue cooking 50 minutes or until deep golden brown, stirring occasionally. Add pepper, apple, thyme sprigs, and bay leaves; cook 3 minutes or until apples soften. Add wine; cook 2 minutes, scraping pan to loosen browned bits. Add broth and cider; bring to a boil. Reduce heat, and simmer 45 minutes. Discard bay leaves; stir in vinegar.
Preheat broiler.
Arrange bread cubes in a single layer on a jelly-roll pan; broil 2 minutes or until toasted, turning after 1 minute.
Preheat oven to 500°.
Ladle 1 cup soup into each of 10 ovenproof soup bowls. Divide the croutons evenly among bowls, and top each serving with about 3 tablespoons cheese. Place bowls on jelly-roll pan. Bake at 500° for 8 minutes or until cheese melts. Garnish with thyme leaves, if desired.
http://www.myrecipes.com/recipe/french-onion-apple-soup
Our Refer a Friend Program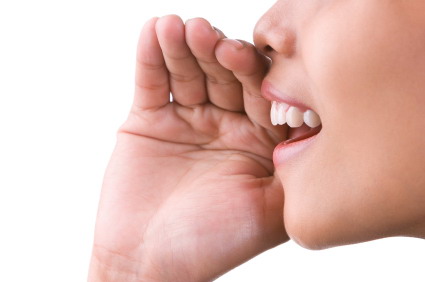 Lake Country Physical Therapy & Sportscare, PC is proud to offer the Help a Friend Program. The Help a Friend Program is an opportunity to celebrate a double bonus. You have experienced the benefits of our services and when you refer a friend to us you receive a gift certificate to shop in downtown Canandaigua.