ARE YOU IN TOO MUCH PAIN TO KEEP YOUR HEART HEALTHY?
Keep your heart healthy with positive thinking and movement! Don't let age, excess body weight and aching muscles and joints slow you down and get in your way of feeling vibrant and youthful. Aging well is not a spectator sport. You need to be an active participant!
My grandmother always told me that time goes faster as we age. I would think "thank goodness" as I would be sitting in my high school English classroom waiting for the bell to ring for school to end for the day! As I approach my double nickel birthday year (age 55), I often hear myself comment "where does the time go?" and then think about my grandmother's words of wisdom: "Time goes fast so keep smiling and keep moving! You will feel better!"
To age gracefully, first and foremost find a physical activity you enjoy or that motivates you. Then, don't think of your body as having specific limits, rather work toward a goal and listen to your body when it tells you to stop, slow down, or change what you are doing. Physical therapy can help you start moving again, help you learn what your body is telling you and sometimes help you move on to a different and more satisfying path. You just have to work at it…daily with patience, passion and persistence.
Most commonly we will hear, "I do not want to make my condition worse so I am reluctant to move" or "I thought the pain and limitation would go away on its own". The longer one has a pain and limitation, the longer it takes to recover. This is why at Lake Country we preach "Early Interventions Speeds Recovery". Getting treatment sooner than later also saves you money. Lake Country Physical Therapy and Sportscare, PC is ranked in the top 8% in the nation at getting people better fast.
From preventing and reducing body aches and pains to developing a customized exercise regimen, physical therapists help people preserve motion and mobility as they age. At Lake Country Physical Therapy and Sportscare, PC, the Physical Therapists have had extensive training in addressing the physical conditions and challenges that accompany aging. When pain limits your ability to move comfortably the last thing one wants to do is move let alone exercise. Managing pain to allow movement is the top priority. There is help to manage your pain with hands on care such as pain reflex release techniques, associated awareness techniques, joint mobilizations or manipulations/adjustments, myofascial release, active release techniques, Graston and more.
Once the pain is under control, appropriate and specific movement is the key to getting you back into action. Instruction in daily breathing exercises, gentle stretching, gradual strengthening exercises using your own body weight as resistance and building up to resistance exercise using free weights, tubing, bands, pulleys or machines, balance activities and some form of low impact cardiovascular exercise is very important in keeping pain under control and joints moving freely. A daily exercise program will help you reach your fitness or activities of daily living goals. Physical activity doesn't have to end with age. For some, aging brings the opportunity to exercise regularly.
When you push too hard and flare-ups occur, rest a day or two, use ice as instructed by your physical therapist, and allow your body to recover. Then, work back into the activity gently and gradually. It is important for both muscle, joint and heart health to warm up and cool down before and after all forms of movement and exercise.
My best advice to you is to stay active. You know your limits. Do it smart!
Devil's Food Cupcakes with Almond-Mocha Topping on Raspberry Sauce
Ingredients
Cupcakes

18.25 oz. devil's food cake mix (1 box)
2.5 oz. jarred, puree baby food prunes
1 cup strong coffee OR
1 cup water PLUS
2 tsp. instant coffee granules
3 large egg whites
2 Tbsp. canola or corn oil

Sauce

24 oz. packaged, frozen, unsweetened raspberries, thawed
1/2 cup sugar
1-1/2 Tbsp. cornstarch
1 tsp. vanilla extract

Topping

2 tsp. instant coffee granules
2 tsp. water
8 oz. frozen, fat-free whipped topping, thawed in refrigerator
2/3 cup sliced almonds, dry-roasted
Directions
Preheat the oven to 325°F, or as directed on the package. Lightly spray two 12-cup muffin pans with cooking spray.
In a large mixing bowl, combine the cupcake ingredients. Follow the package directions for beating the batter and baking and cooling the cupcakes.
Meanwhile, in a medium saucepan, stir together the raspberries, sugar, and cornstarch until the cornstarch is dissolved. Bring to a boil over medium-high heat. Boil for 1 to 1 1/2 minutes, or until thickened, stirring frequently. Remove from the heat. Let cool completely, about 20 minutes. Stir in the vanilla.
In a medium bowl, stir together the coffee granules and water until the coffee is dissolved. Fold in the whipped topping until well blended. Cover and refrigerate until needed.
For each serving, spread 1 tablespoon plus 2 teaspoons raspberry sauce on a dessert plate, top with a cupcake, spoon 1 tablespoon plus 2 teaspoons whipped topping mixture over the cupcake, and sprinkle with about 1 1/2 teaspoons almonds.
Additional Tips

Serving size 1 cupcake, 1 tablespoon plus 2 teaspoons sauce, and 1 tablespoon plus 2 teaspoons topping.

When shopping for cake mix, read the Nutrition Facts labels and choose a product with 0 grams of trans fat. You can refrigerate any leftovers from this recipe for up to 48 hours or freeze them for later use. Keep the cupcakes, the sauce, and the whipped topping in separate airtight containers.

Nutrition

Nutritional Analysis
Per serving
Calories Per Serving
173
Total Fat
4.0 g
Saturated Fat
1.0 g
Trans Fat
0.0 g
Polyunsaturated Fat
1.0 g
Monounsaturated Fat
2.0 g
Cholesterol
0 mg
Sodium
198 mg
Carbohydrates
31 g
Fiber
2.0 g
Sugars
18 g
Protein
2.o g
Dietary Exchanges

1/2 fat
Carrot Soup with Coriander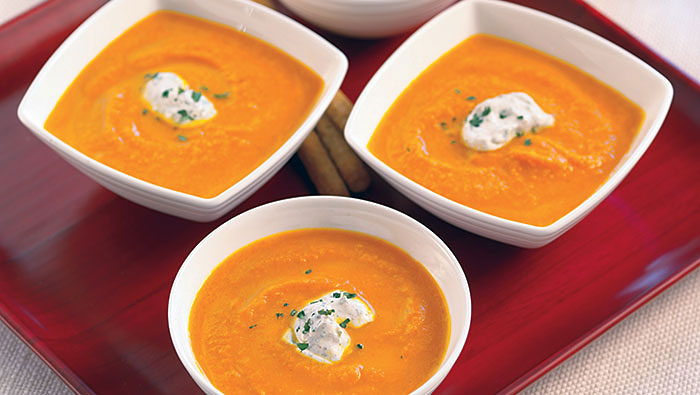 Ingredients

2 teaspoons olive oil
1 small onion, chopped
2 medium garlic cloves, chopped
1 tablespoon ground coriander and 1/8 teaspoon ground coriander, divided use
1 pound carrots, cut into 1-inch pieces
2-1/2 cups water
1 cup fresh orange juice
1/8 teaspoon salt
1/4 cup fat-free sour cream
2 teaspoons fresh lemon juice
1 tablespoon chopped fresh cilantro

Nutrition

Nutritional Analysis
Per serving
Calories Per Serving
127
Total Fat
3.0 g
Saturated Fat
0.5 g
Trans Fat
0.0 g
Polyunsaturated Fat
0.5 g
Monounsaturated Fat
2.0 g
Cholesterol
3 mg
Sodium
170 mg
Carbohydrates
24 g
Fiber
4.0 g
Sugars
14 g
Protein
3.0 g
Dietary Exchanges

3 vegetable, 1/2 fruit, 1/2 fat
Directions
In a large saucepan, heat the oil over medium-high heat, swirling to coat the bottom. Cook the onion and garlic for 3 to 4 minutes, or until soft, stirring occasionally.
Stir in 1 tablespoon coriander. Stir in the carrots, water, orange juice, and salt. Reduce the heat to medium and bring to a simmer. Reduce the heat to low and simmer, covered, for 15 to 20 minutes, or until the carrots are very tender.
Meanwhile, in a small bowl, whisk together the sour cream and remaining 1/8 teaspoon coriander. Set aside.
In a food processor or blender (vent the blender lid), process the soup in batches until smooth. Stir in the lemon juice.
Top each serving with a dollop of the sour cream mixture. Sprinkle with the cilantro. © American Heart Association