Lake Country Physical Therapy & Sportscare, PC
Owner & Physical Therapist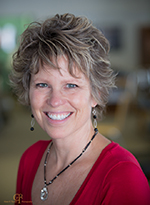 Zoe Fackelman, PT
ZOE FACKELMAN, PT received a Bachelor of Science degree in 1982 in Physical Therapy from Ithaca College. In 1987, she founded Lake Country Physical Therapy & Sportscare, PC to fulfill her goal of using a holistic approach to caring for her patients, who learn that treatment isn't isolated to just the injury or pain – but to the entire body. Zoe has successfully encouraged community members to take responsibility for their future health through self care education, including natural healing methods, nutrition and supplement information. Zoe is the president and sole owner of the corporation.
Zoe has extensive "hands on" – manual therapy skills to assist in pain management and restoration of alignment and motion. She is one of an elite few trained at the most advanced level with PRRT – pain reflex release techniques – a gentle hands on technique to help break the pain and muscle spasm cycle by quieting the nervous system.
Zoe has specialty training with:
Orthopedic Conditions
Sports Injury Rehabilitation and Performance Enhancement
Spine Care
Osteoporosis
Yoga
TMJ / TMD Dysfunction
Men's and Women's Health Issues Such as Urinary and Bowel Urgency, Frequency and Incontinence – Prevention and treatment Pre/Post Surgical Interventions
Pelvic Pain
During and After Pregnancy or Menopause as well as prevention of related conditions
Problems Associated With Surgery or Radiation Treatment
Memberships
American College of Sports Medicine
American Physical Therapy Association
Canandaigua Chamber of Commerce
Canandaigua Rotary Club
International Pelvic Pain Society
National Association for Continence
National Strength and Conditioning Association
Professional Women of the Finger Lakes
When not at work, Zoe enjoys taking the time to enjoy the beauty of the Finger Lakes region. She takes delight in gardening, traveling, spending time with her family and friends. Her personal wellness program includes golf, yoga, weight training, walking, snow and water skiing, hiking and biking.
---